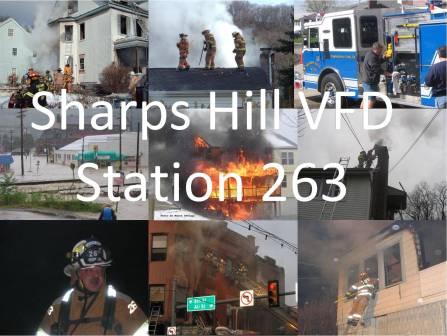 ---
Annual Fund Drive going on now
Proudly Serving our Community for over 87 Years
The Sharps Hill Volunteer Fire Department is located in Shaler Township in the Northern Suburbs of Allegheny County Pennsylvania. We are an all volunteer department that offers Fire and Quick Response Emergency Medical Services to the residents of Sharps Hill and surrounding communities. Sharps Hill is one of six all volunteer fire departments in Shaler Township. Our primary response vehicle is Engine 1, a 1993 Pierce Dash 1250 GPM Pumper. One of the items you will notice is that our vehicles are not the traditional red color. The department changed to a blue and white color scheme with the arrival of Engine 1. One of the reasons for the color change was to follow the colors of the Township. There were, and still to this day, many people who believe that all fire vehicles need to be red. Upon arrival at the station in 1992 all the members were pleased of the color change and are very proud of our difference.
Sharps Hill currently has a current membership of 24 active numbers, 14 lifetime members and 2 social members. Our training nights are every Tuesday night with the exception of the 4th Tuesday which is our department meeting night. Our members attend training sessions at local, state and national programs and have certifications by the National Professional Qualifications Board and the Pennsylvania State Fire Academy in Firefighter 1, Firefighter II, and Fire Service Instructor. In addition, our members also have certifications in Hazardous Materials and by the Pennsylvania Department of Health as Instructors, Paramedics, EMT's and First Responder as well as in Rescue.
Our Allegheny County station number is 263 and we are dispatched by the Allegheny County Communications Center.
---
Squads 1 and Engine 1 are equipped with an AED and minimal first responder supplies. While we no longer are dispatched to all medical calls certified personnel will assist where possible and practical.
---